The Soul of a creature is its essence, the currency of which is Blood.
Information
Edit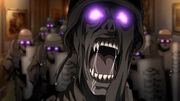 The currency of the soul is blood -- once blood is drained from a person, their soul is taken into whatever drained them and can be used as a familiar by Vampires. What is left behind is a Ghoul, an undead agent completely submissive to the will of the vampire that bit it. Even Vampires and other non-human creatures have souls, though Demon souls are considered to be "impure" and "damned". They too are subject to be drained and used as a familiar.
Ad blocker interference detected!
Wikia is a free-to-use site that makes money from advertising. We have a modified experience for viewers using ad blockers

Wikia is not accessible if you've made further modifications. Remove the custom ad blocker rule(s) and the page will load as expected.