Hellsing: Ultimate X
Talk

0
198pages on
this wiki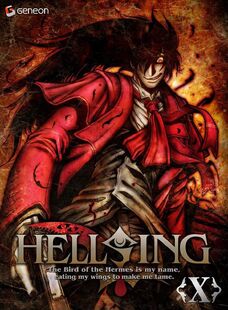 Officially released in Japan on December 26, 2012. An English dub is scheduled for release the Fall of 2014.
Hellsing: Ultimate X
OVA Installment Profile
First Released(Japanese)
December 26, 2012
First Released(English)
October 28, 2014
Corresponding Volumes
Hellsing: Volume 10
Corresponding
Manga chapters
81: "Lunatic Dawn"


82: "Operation Wolf"
83: "Warcraft 1"
84: "Warcraft 2"
85: "Warcraft 3"
86: "Wolffang 1"
87: "Wolffang 2"
88: "Black Onyx 1"
89: "Black Onyx 2"
90: "Black Onyx 3"
91: "Black Onyx 4"
92: "Sorcerian"
93: "Sorcerian 2"
94: "Oblivion"
95: "Romancia"


Preceded by
Hellsing: Ultimate IX
Succeeded by
Last in the Series
The same as Hellsing: Volume 10. 
Characters in Order of Appearance (with cameos)
Edit
Major Events
Edit
Inside the Deus Ex Machina, Seras battles the Captain while Integra goes to confront the Major.
Alucard begins absorbing the blood of every corpse in London.
Pip Bernadotte's consciousness is revealed to still be present within Seras.
With the help of her familiar, Pip, Seras kills the Captain and rejoins Integra.
Schrodinger kills himself and allows Alucard to absorb him.
Due to Schrodinger's powers requiring the ability to perceive himself as an individual, Alucard disappears into "a set of imaginary numbers", seemingly destroying him for good.
The Major is revealed to be a cyborg.
Integra kills the Major, but loses her left eye in the process.
Walter is attacked by Heinkel Wolfe, but cuts off the latter's arm and makes his way into the Deus Ex Machina.
Walter confronts and kills the Doctor before dying himself.
"She", the source of Millennium's artificial vampires, is revealed to be the long-dead corpse of Mina Harker.
The Deus Ex Machina is destroyed, ending the Battle of London.
Alucard begins destroying his stored souls in order to gain control of Schrodinger's powers.
Thirty Years Later
Edit
London is rebuilt.
Alucard finally kills the last of his stored souls, enabling him to control Schrodinger's powers.
Alucard returns to Hellsing Manor and reunites with Integra and Seras.